Love in the Desert: My Grand Canyon Adventure
"I know you have other plans," he said, wrapping his arms around me. My new dude, the guy I'd been hanging out with for a few blissful weeks, hiking with and cooking with and chatting with and hopelessly falling for. He was about to leave for a trip down the Grand Canyon. I was excited for him. I had my own trip to be stoked on: my first leg of book research in Southern California.
"I know you're busy, but there's an extra spot on my Canyon trip, and I would love it if you could come."
It was 5 weeks before the launch date.
I said no. There were many smart and rational reasons to say no.
I should focus on my book research.

I should hang out in the apartment I just moved into.

I shouldn't spend the money. I should work and earn money instead.

I should spend time promoting my business.

I should experience some more whitewater before diving into one of the most intense river trips in the country.
And yet, in the face of all this, I couldn't seem to take no for an answer. I really liked this guy and wanted to spend more time with him. I really wanted to visit the Grand Canyon and learn how to do a new thing in the wilderness: river running. I really wanted to meet the people on the trip and share the experience with them. I knew that if I didn't go, I'd regret it. I couldn't betray myself like that. I really wanted to go, and my heart was begging me to reconsider.
So I changed my mind a few days later and said yes.
"This is the best trip you could ever possibly take," my friend Kimi told me before leaving, but even in the days leading up to departure, I was still kinda nervous.
Kimi was right. It was truly the very best trip, in all the ways I expected and many more that surprised me. I made awesome new friends. I learned a million new things. I challenged myself to climb and explore things that scared me. I disconnected from the stresses of my daily life, and let the freedom of being myself sink way, way in.
Here is the story of my Grand Canyon adventure, with daily details, lots of pictures, and a sweet little video.
DAY ONE/river miles 1-11: After rigging the boats the day before, we get a brief lecture about wildlife (ravens, ring-tails, rattlesnakes, condors) and river safety from the ranger, annnnnd we're off! There are 14 of us on the trip—Evan & Marla, our badass trip leaders, plus 10 more hilarious and brilliant friends I would come to know during the next few weeks: Dan, Lauren, Samantha, Jackson, Sarah, Tara, Terri, Kyle, Billy, and Alli. Dave (my love) knows most of them from almost 10 years ago at a Colorado whitewater company, where they worked as river guides. I'm excited to be rafting with these folks because they really know their shit! Despite my utter lack of any whitewater know-how, I feel totally comfortable embarking on this journey with them. We make it 11 miles down the river, through the Marble Canyon, under the Navajo Bridge, and camp at Soap Creek. Our chef friend slash former boss in White Salmon, Christiaan, gave us some meatballs with his famous red curry sauce, so we heat them up and serve them to the group as an appetizer. Later that night, Dave finds a wild ring-tailed cat snacking on apples in the fruit bin on our raft and yells at it, "What are you doing? Get the fuck out of here!" The cat springs from the raft, splashes into the river, and swims to shore. We sleep on the boat for the first time, watching shooting stars as we fall asleep.
DAY TWO/river miles 11-23: I wake up all smashed between our giant cooler and Dave, at a steep angle. All the boats are completely beached due to fluctuating river levels, so we have to band together and heave/ho them back into the water. It's a 12-mile day with cloudy weather, the air is cold, and the river's downright freezing. We're bundled up. We go through our first big rapid: House Rock. I'm a little nervous. It's my first big rapid ever, really, unless I'm counting some of the smaller stuff I've done on rivers close to home (Wenatchee, White Salmon, Deschutes). We make it through just fine, pull over onto a beach, and I record some videos of our friends sailing through with no problems. That evening, we camp at Indian Dick. Dave and I are on dinner crew with Alli and Tara. We make beef brisket and a delectable spinach salad. The portions are huge, we realize, and we'll have leftovers for lunch tomorrow. This will continue to be a thing throughout the trip: big, big dinners with lots of leftover meat and veggies for the next day's lunch. I'm super impressed with the food so far. Since I'm more accustomed to backpacking food, I'm reveling in the luxury of a full kitchen, with four gas burners, an entire dish & cookware set, an expansive spice kit, and a dish washing station. I'm all about it.
DAY THREE/river miles 23-35: Another 12 miles down the river, with an adventurous stop at Silver Grotto, where we do some canyoneering and swimming through freezing pools in our drysuits. I've borrowed a drysuit from one of Dave's friends, and while it's not actually completely dry, it protects me enough to venture almost all the way into the highest pool. While we're away, ravens tear into our exposed snack bags and go to town, flinging nuts and seeds all over the place. Our ranger friend had warned us about this, but we'd totally forgotten to put the food away in our excitement to explore the grotto. Later that afternoon, we stop for lunch at Redwall Cavern where we get to lay our wet gear out in the sun to dry. The night's camp is at Nautiloid. Another night sleeping on the boat, and I love it.
DAY FOUR/river miles 35-53: Today's weather is gorgeous as we row through President Harding rapid. Afterward, the girls all jump onto a raft and leave the boys to get into mischief in their own boats all afternoon. We set up camp at Nankoweap and do a great evening hike up to some ancient granaries in the cliff walls, gazing down at a postcard-esque view of the giant bend in the river. After a few nights of boat sleeping, I'm in the mood to sleep in the tent, so we set it up. We make friends with our neighbors, camping just a few hundred yards downstream, who are having a disco party. Looking at their outfits, I'm starting to realize that, unlike backpacking, when you go rafting, you can literally bring whatever you want. Freedom.
DAY FIVE/river miles 53-73: Today we make lunch before breaking camp and take it with us, but I can barely wait to eat my sandwich and it's gone before 10am. Typical! We approach the Little Colorado River, hoping it will be blue, but knowing it can often be brown if there have been any washouts lately. Hooray, it's blue! Marla, Terri, and I smear mud on our faces and into our hair. That afternoon, after rowing past Hopi Salt Mines, the canyon opens up and we see more expanse of blue sky than we've seen in days. We set up camp and a tent at Unkar.
DAY SIX: It's a layover day, so we spend the whole day relaxing at camp, hiking, cooking, eating, and partying. The heat is punishing if we stray too far from the river bank, and shade is scarce. Dave and I do some yoga on the beach. I'm in love. We hike up onto the cliffs in the afternoon and get some amazing views of the river section we've just traveled. We're on kitchen crew again, and this time it's carnitas. We also make a super yummy chunky gazpacho with all kinds of fresh veggies. Our friends fashion a tower made of oars and hang a disco ball so we can celebrate Samantha's 40th birthday! It's our turn for disco party.
DAY SEVEN/river miles 73-84: A hot, hot 11 miles down the river through Sockdolager and Grapevine rapids, both of which are fun and not scary. We make camp at Clear Creek, in the Granite Gorge, and arrive with enough time to hike up the side canyon to see some incredible waterfalls and meet some tiny frogs that make very loud dinosaur sounds. The evening brings an explosion in the form of a grease bomb, courtesy of our friend Dan. Highly entertaining! We're sleeping on the boat again, and after a few nights in the tent, it feels great to be rocked to sleep by the gentle lapping of the river.
DAY EIGHT/river miles 84-95: Four of our friends are leaving today—Samantha, Jackson, Tara, and Terri—with kids and jobs at home to return to. We row to Phantom Ranch, where they prepare for the 9-mile hike out of the Canyon on the Bright Angel Trail. In exchange, we get a new friend, Scott, who has just hiked in. We write and mail some postcards from Phantom Ranch, where they'll be carried out by mule. This is more civilization than we've seen in a week, and although it's not much, it's still a lot to take in. A big rapid is next—Horn Creek—which we scout and make it though just fine. Granite rapid follows soon afterward, and although it maybe should have been scouted, we decide to just go right through! I see some backpackers at the camp spot us approaching, and then scramble along the shoreline to watch us run the rapid. It's super fun, splashy, and only a little bit scary. Dave is an exceptional boatman! We decide to camp at Hermit, just above the rapid itself.
DAY NINE/river miles 95-108: This is a big day. Hermit rapid first thing ("gnar for breakfast"), and then Crystal. This is the second-biggest rapid on the whole river, rated a 9/10 for size and difficulty. We scout for a while (and by "we," I mean those who know what they're doing; I just stand around and look at the huge waves and listen to them talk about which line is best). We are rigged to flip. Sarah flipped last time she ran this rapid, and although this is her 6th trip down the Grand Canyon, she's still very eager to get through Crystal. Everyone makes it out beautifully, and the rest of the day is filled with a dozen or so smaller, really fun read-and-run rapids called The Gems. Stopping for a brief look at an old beached boat called the Ross Wheeler, we find camp that night is at Parkins Inscription.
DAY TEN: It's another layover day, and today I'm kinda hungover after partying my way all through The Gems yesterday and into the evening. It's hot AF, so I'm doing my best to drink as much water as possible during our hike into Shinumo Creek Canyon. The scenery is stunning as we climb up and over the ridge. Dave finds a hoodoo to climb onto, which terrifies me even to watch, and when he comes down he confirms, "That was scary as fuck." But he likes getting scared sometimes. The canyon is lovely, with cottonwood trees and a swimming hole. Back at camp, we take a quick and heavenly shower, fashioned under an oar tower, on the beach before gearing up for cook crew again. Dave and I are on our own cook crew now after our exchange at Phantom, so the two of us make ribeyes, veggie couscous, and cucumber salad. We're now known as the vegetable people and leftovers-lovers. Damn right!
DAY ELEVEN/river miles 108-123: We do 15 river miles to Forster, and although we wanted to do more, the wind (known as "the Ws" under the assumption that if it can't hear you talking about it, it won't terrorize you) was ripping and we couldn't make good enough time to get further. We did make time to stop at some awesome spots along the way: Elves Chasm and Blacktail Canyon. At camp, Dave and I hike into a crumbly, sandstone wash that terrifies me as it slips away under my feet. I almost start crying, and it's then that I realize I'm actually pretty tuckered. Every day, I'm doing things that scare me. Every day, I'm asking so much of myself. I've enjoyed every bit of this adventure, but damn, it's wearing me out!
DAY TWELVE/river miles 123-138: We have to awake earlier than usual, with our friends teasing us from outside the tent and threatening that there won't be any coffee left if we don't get up—grrrrr, don't you dare talk to me like that—but we have a big day planned. Four substantial rapids (Fossil, Specter, Bedrock—where Dan breaks an oar!—and Deubendorff), and a pretty-much-all-day hike through Tapeats Creek to Thunder River and over Surprise Valley to Deer Creek, which we embark on around 12:30pm. Dave's been on the hike before, so he opts to stay with the boat. The desert hiking is beautiful, and the waterfall is incredible, but the trek across the exposed valley really takes it out of me, and when I'm reunited with Dave at the Throne Room, I barely have the energy to say hello. "You guys wanna get splashy?" he asks us. Marla, Evan, Kyle, Dave and I make a quick recovery from the heat exhaustion by dunking our head into a waterfall in Deer Creek. We camp at Pancho's Kitchen, a really neat camp under a sandstone (or limestone? not sure) overhang.
DAY THIRTEEN/river miles 138-152: Today is special. Every day has been special on this trip. I'm totally in love with my man. I'm totally immersed in the beauty of the canyon. But today is incredible. We go through Upset rapid, one of the biggest, and Dave goes back for another round in his kayak. We stop at Matkatamiba Canyon, aka Matkat, to explore in awe. Camp is unique, at Ledges, where there isn't really a beach, just Muav limestone that we tie the boats up to and set up our stuff. Dave and I climb high into a steep wash, where, after a couple of whoops, we discover that we're in the most epic echo chamber either of us have ever been in. There's a full second delay when we shout. It actually sounds like someone across the canyon is mocking us.
DAY FOURTEEN/river miles 152-167: First we do some morning yoga on the ledges before breakfast. Then it's 15 miles down the river to National Canyon, stopping at Havasu Creek for some more mud masks and absolutely stunning scenery. Dave spots the first ocotillo of the trip, and we see a bunch of sheep along the river's edge: a couple of rams on the left, and a large group of mamas and babies on the right. This day is full of magic. We're on dinner crew (yay!) and we make a most delicious dutch oven enchilada bake.
DAY FIFTEEN: Another layover day! We are stoked because we're still on cook crew (it runs dinner through next day lunch) so we get to cook everyone brunch and we do it to-order: french toast, cheesy eggs, and bacon. Our friends are stoked when I approach them, relaxing in their camp chairs, with a pen and paper to take their order. Between brewing coffee and cooking brunch, though, we have time for a long yoga session on the sand. After brunch, we have time for a nap in the tent. And later that day, we have time for a long shower on the beach. Romantic AF.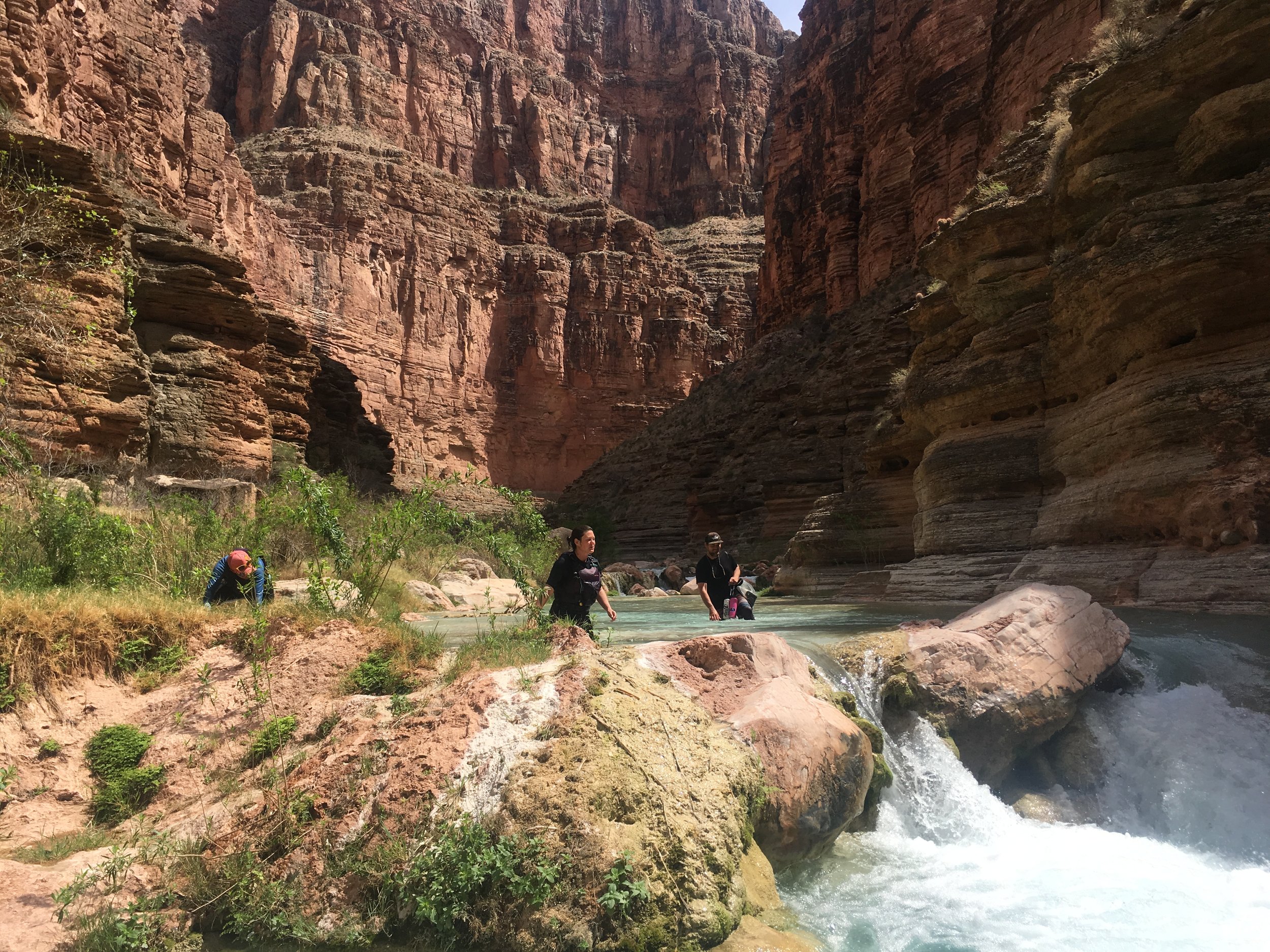 DAY SIXTEEN/river miles 167-177: Dave mostly kayaks this day with Kyle while I drink white wine and ride in the raft with Alli. After just 10 miles, we do a lunchover at Honga Springs and party all afternoon. Dave's doing backflips off the back of the raft. He's picking me up and throwing me into the river. I'm having the best day ever, and I'm so in love. The next day is Lava (the biggest rapid on the river), so we try to get lots of sleep to prepare ourselves for a big day!
DAY SEVENTEEN/river miles 177-185: Before the big rapid, there's a big rock in the river called Vulcan's Anvil, and the tradition is to kiss it. We row over to it, give it a smooch, and spot a red Swedish Fish on a little ledge. Someone must have left it as an offering. I wonder how long it's been there. Then, it's on to Lava. After a thorough scout, all the rafts go through and make it perfectly out of the waves, into the flat water. Dave hikes back up the shoreline for another round in his kayak, which he'd left above the rapid. Then, he goes for a third round in the inflatable kayak. What a beast! We stop for drinks and celebration at Tequila Beach, make some friends with other rafters who also made it through without flipping, and eventually make our way to Mile 185 camp where we play bocce ball on the beach and party on the boats for a while. We sleep on the boat again, as we do most nights.
DAY EIGHTEEN/river miles 185-202: We do 18 miles today, stopping at Whitmore Wash to get pictures of the pictographs and hike through a bunch of poky desert things. Today is hot, hot, hot. I'm fully clothed but only to protect myself from the sun. From looking at the pictures, you might think I'm actually cold. Nope. Roasting. Camp is at Mile 202, where Dave and I get to make burgers and coleslaw for dinner. Team vegetable!
DAY NINETEEN/river miles 202-216: All the boats are beached this morning, except for ours, so we have to do another heave/ho operation to get them in the water. Then we set off through some fun, splashy rapids, past Pumpkin Springs where Dave and Kyle do some backflips, and along some ledges, where they do more jumping into the water, and eventually to an amazing beach at Opposite Three Springs camp.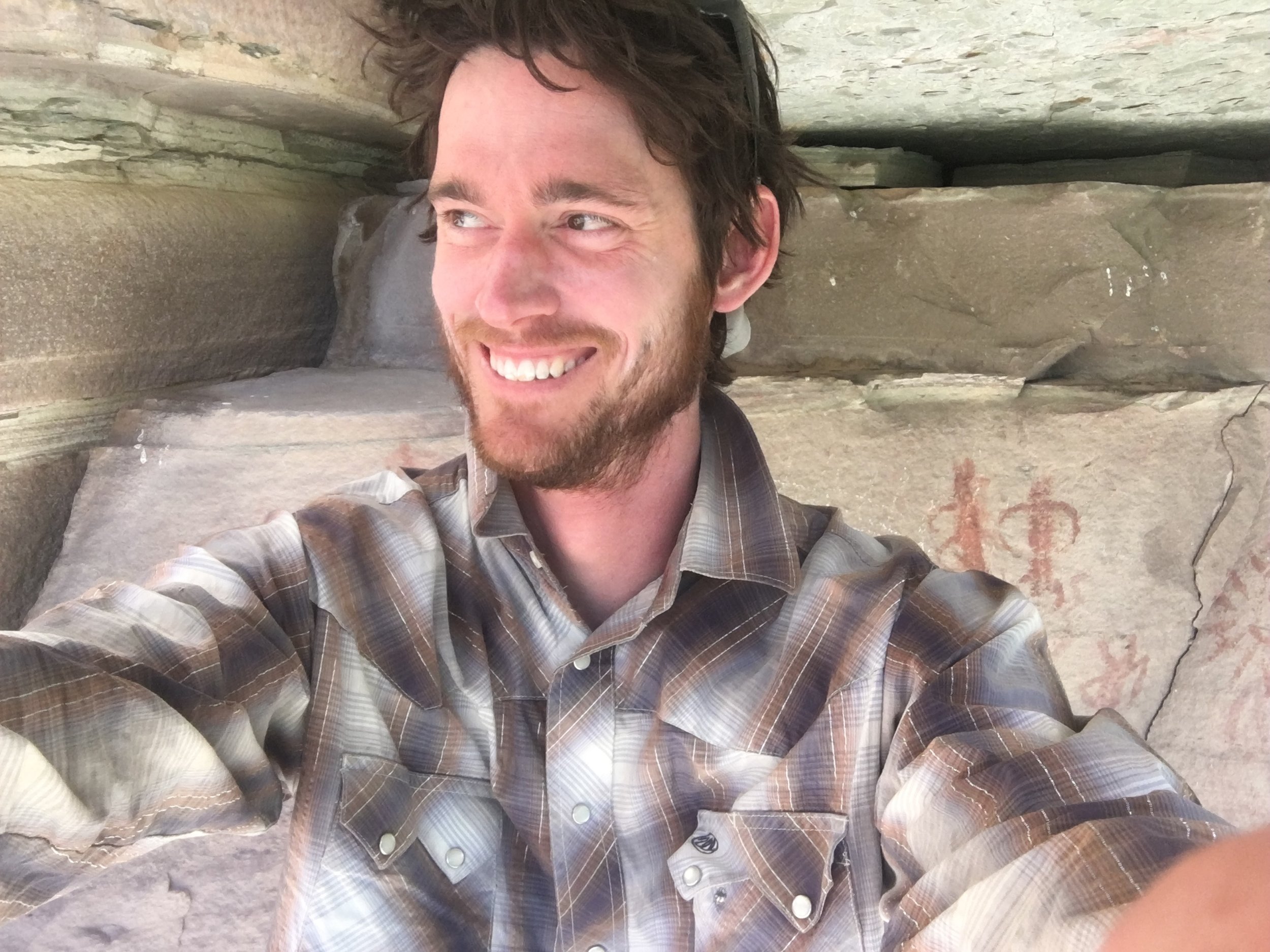 DAY TWENTY: It's our last layover day. It's so hot that I can barely function, but Dave and I find some shade to read aloud to each other from our Grand Canyon storybook, and our friends set up a slip n' slide into the river later that afternoon. The Ws start to get really terrible as the day presses on, and the dinner crew struggles to make food without sand flying into it. They move the kitchen to a somewhat more protected spot behind some bushes, and succeed at preparing a super delicious, mostly sand-free dutch oven chicken pot pie. The eddy our boats are in is really surgy, and I barely slept the night before from all the violent rocking, so we set up a tent and hope the wind doesn't blow the sand in throughout the night.
DAY TWENTY ONE/river miles 216-229: The wind blew all night, and continues to blow this morning. Dave rows into the wind like a champion, but it's slow going for all of our rafts. I read aloud from our storybook while he rows. Diamond Peak comes into a view. We make it to Travertine Canyon, where the Hualapai tour companies have set up a number of ropes and ladders to access the grotto. A bunch of other rafts and motor rigs share the eddy with us. This is more people in one place than we've seen since we left Flagstaff three weeks ago. One of the motor rig captains asks us, "Hey, could you guys use some ice?" Almost all of ours has melted, so we accept with a hearty, "Hell yes!" and immediately make cocktails. We decide to camp there at Travertine (although it's not actually a camp spot). Later, Dave and I make bread pudding in the dutch oven, just for fun, because we still have so many bread and milk products that don't look like they're going to get eaten. It's a total hit. That night, at the campfire, everyone in the group takes turns speaking aloud to share something special about their Grand Canyon experience. It's very sweet.
DAY TWENTY TWO/river miles 229-246: We awake covered in sand; it's been blowing in through the tent screen all night. It's in our bags, in our mouths...everything. Today we'll go through our very last rapids. None of them are expected to be a big deal except for maybe Killer Fang Falls, which looks small but can snag you unexpectedly if you aren't paying attention. We scout it, and make it through, but one of our rafts almost wraps around the rock formation. Then, in the very, very last rapid of the entire river, Gneiss, Billy flips. It's our first flip of the entire trip, and it's in the very last place it could possibly happen. Everyone works together to right the raft and we carry on through the Lower Granite Gorge, which is geologically reminiscent of the area near Phantom Ranch, but with really beautiful rock called water-fluted schist. Instead of camping, we barge all five rafts together and prepare to float all night to our takeout spot.

NIGHT FLOAT/river miles 246-278: The disco ball goes back up and we float together from 7pm to 830am the next day. I fall asleep first (probably), utterly exhausted from three weeks of new experiences, new people, and new adventures.
DAY TWENTY THREE/river miles 278-280: I begin to wake up at dawn. Others have taken shifts throughout the night to keep an eye on the rafts and stick an oar in the water when necessary. The sun brightens the day and we find ourselves in the Grand Wash Cliffs, near Lake Mead. And just like that, it's over. We've traveled 280 miles down the Colorado River. It feels like it's been forever since we started. It also feels like we just began. We've been disconnected from society for more than 3 weeks, with no idea what's going on outside the canyon walls. The serenity and the peace and the sense of newfound adventure around every river bend...they're all about to dissolve.
I can't begin to describe how grateful I am for the experience. I didn't know anyone at the start of the trip except David. Everyone accepted me into the squad, despite my lack of whitewater know-how or past river trips. We were friends by the end, teasing each other, constantly cracking up, and always looking out for one another.
This might go without saying, but I'm hooked. Turns out I love rafting. I love whitewater and rapids. I love exploring wild places that you can't get to without boating in. I love cooking in the wilderness and sharing meals with friends beneath towering canyon walls. Unsurprising, perhaps, based on my obsession with hiking and backpacking, but I cannot wait for the next river trip. I loved everything, and I mean everything, about this trip.
Something really cool happens when you spend time with people on a trip like this, immersed in the wild, with no bosses, or traffic jams, or bills to pay, or text messages with unwelcome news. There are no expectations for anyone to be anything but what they are. Soul shines through. Spirit shines through. Yes, we asked a lot of ourselves. Big rapids are scary. Diverse personalities and group dynamics require some effort and grace. Living outside for 3+ weeks creates some inherent physical stress. There were some tears. There were a couple of tense moments. But we all wanted to be there, and we were stunned by the beauty of the place, humbled and joyful and incredibly present with one another.
Was it risky to leave my job and business behind on such short notice and go completely off the grid for 3+ weeks? I mean...yeah, according to some schools of thought, but my business was waiting for me when I got off the river, and my California research trip was only postponed by a couple of weeks. I am so glad I trusted my inner knowing and took this trip. I couldn't be more happy with my decision to go, and I was rewarded with a journey more beautiful and more satisfying than in my wildest dreams.
You know what? Taking this trip probably made me an even better business person, stronger, and more rooted into my values. After all, what is Eat Hike Love about? It's about freedom. It's about spending time in nature. It's about loving ourselves enough to choose what's right for us, despite what others say, and despite what societal norms dictate. I'm proud to be an example of someone who lives by my own rules.
Doubts, fears, and other people's rules are no match for a heart on a mission.
—Jen Sincero